Meet the Horses of CZ Dressage
As a horse trainer I am blessed to have worked with many horses throughout my career. I am even more blessed to have the following special horses in my life for the long haul!
Loki's Revenge
Loki is my 2018 RRP horse, owned by Christine Gardner. At 3 years old he is already 16.3, and moves like his legs are made of springs! I am currently restarting him for dressage, which I think he is very talented for! I can't wait to see how he does! Follow him on Facebook, https://www.facebook.com/lokisrevenge2018rrp/
wall street bull
Or "Bull" for short. I have been accepted into the Retired Racehorse Project (RRP) Thoroughbred Makeover competition which takes place in October at the Kentucky horse park. Part of the competition includes the ability for us to choose our own horses. I fell in love with him the moment I saw a picture of him, and drove to Ocala the day I found out I was accepted into the competition to check him out. There I met Darcy Scudero of Center Stage Farm, who is now a part sponsor of Bull along with Stormwynd Equestrian Center. I am very grateful for my sponsors, otherwise I would not be able to do this! I knew I was going to take Bull home when I saw Darcy pull him out of his field on hop on him bareback. Did I mention he is only 3?!
We are now less than 100 days from the competition, and my approach with him has been a slow one. I did some ground work and then turned him out and let him be a horse for awhile before beginning him lightly under saddle. During this time I also moved which resulted in more time off. Only now do I consider him to be in full work, and he is giving me more than I could have imagined. I never intended him to be strictly a dressage horse, but I am starting to see upper level potential in him already and am seriously thinking of keeping him for myself!
UPDATE!! Bull did fantastic at the RRP! He scored 66% in dressage, and came in 8th in the freestyle out of 33 entries! He made me proud and I enjoyed my family coming to see him. He cracked everybody up with his goofy personality. A few months later I sold him to a student, and I am enjoying watching their progress together!
Prince Tucumcari, aka "Tucci"
Tucci is owned by my dear friends the McEacherns. I was lucky enough to meet them and Tucci when I worked for Jodie Kelly a few years ago. I had Tucci in training with me for about a year at that time. Then I moved out of state and Tucci went on to be a trail horse. When I moved back to Florida 2 years later, he came back into training with me, and I was surprised to find that he remembered everything I taught him! He is one of the smartest horses I have ever had to work with.
Tucci is a 17 year old Saddlebred/Freisian cross, registered Georgian Grande and Freisian sporthorse. He knows who is on his back and will either gallop down the trail or walk gingerly depending on who is on him. I am retraining him for dressage after a lifetime of being ridden Western. This, along with his long back and upright neck, has proved challenging. It is his tendency to curl up his neck and avoid the bit, so I am constantly sending him OUT to the bit and asking him to stretch down. He knows all the lateral movements, but getting them without him getting overbent is very difficult.
However, Tucci has had a very successful dressage debut! At his first show at Training Level he scored 69% and 71% and won his class!
UPDATE! Tucci is now showing 1st level, and scored 69% at his last show!
Come see Tucci at Blue Angel Dressage, April 2018 where he will be showing 2nd level!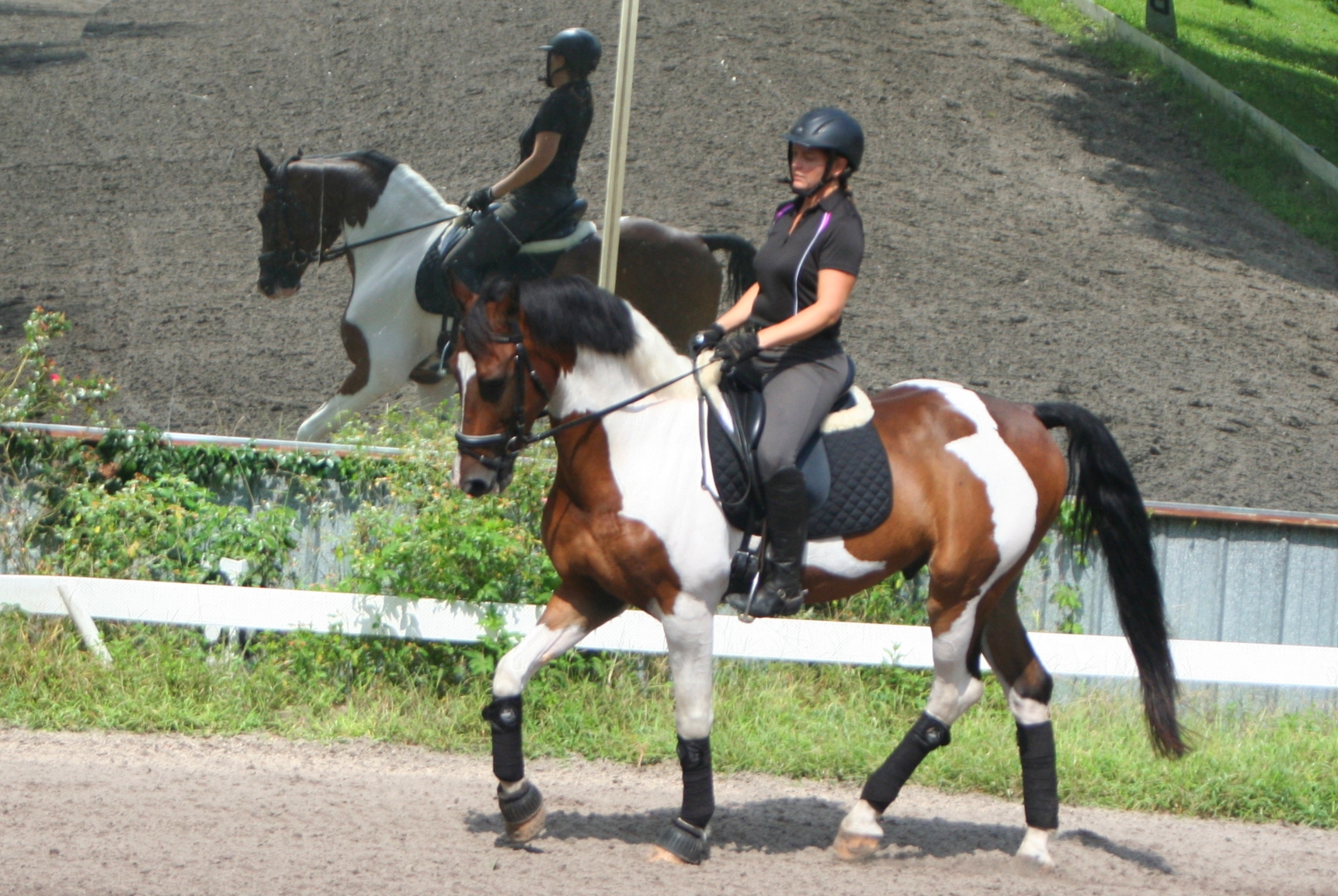 Emerald Impressions, "Preston"
Preston is my personal horse, that I have owned for 7 years now. He is bred by Anissa Cottongim of Emerald Acres, and is a 15 year old Trakehner gelding. Preston has followed me around the country! He has shown successfully through 2nd level and is schooling 4th. He humors me by doing dressage, he really loves jumping! He is also fantastic on the trails. He has one of the best temperaments you can find and I would trust anyone on him. He is sensitive and forward, while still being safe. He really teaches his riders how to ride with their core! He is one of the best horses one could ever find, as he goes to the level of the rider who is on him. I can put a total beginner on him and he will take care of them, or he can be tuned up to respond to the lightest aid. He also never gives up the good stuff easily, so he is a great lesson horse.